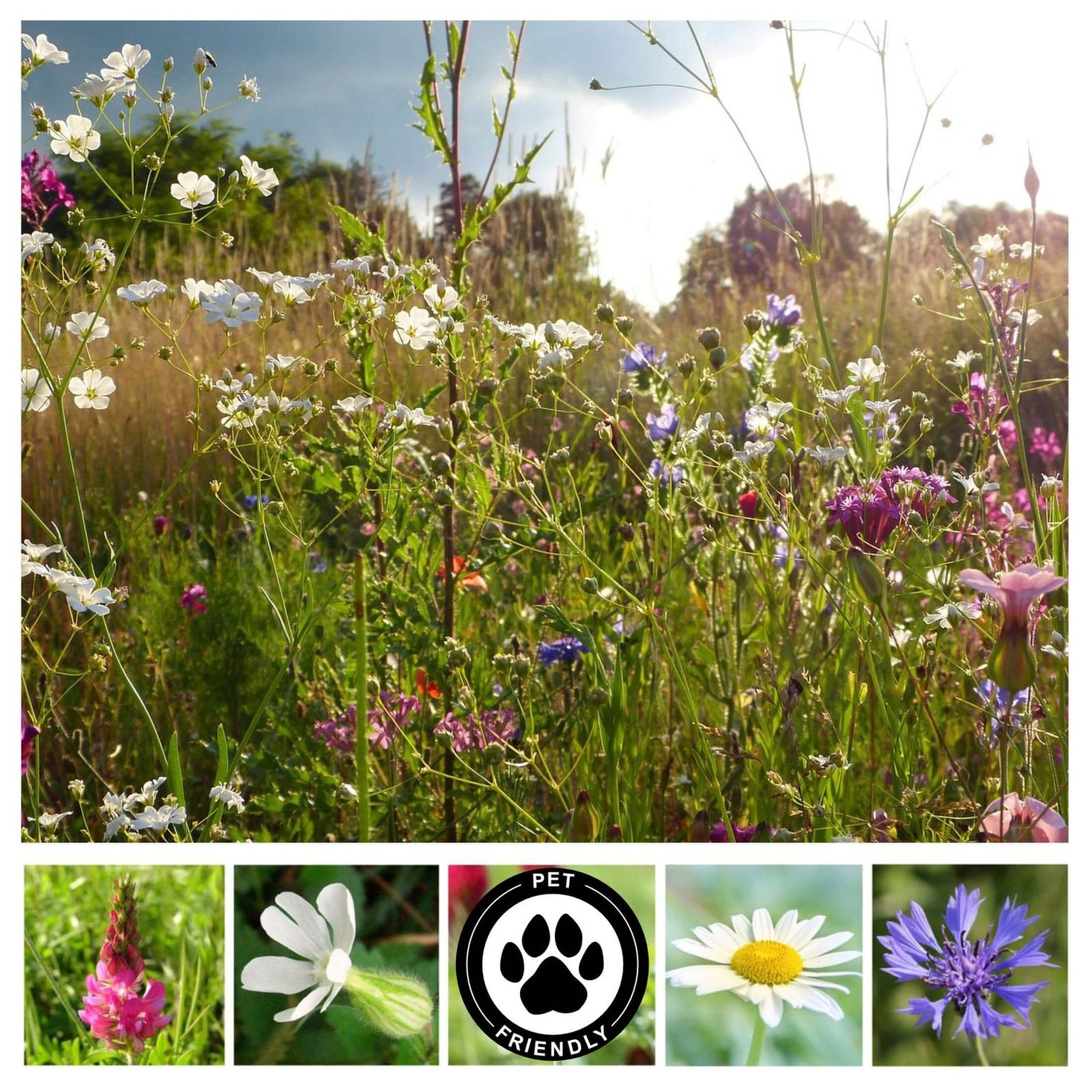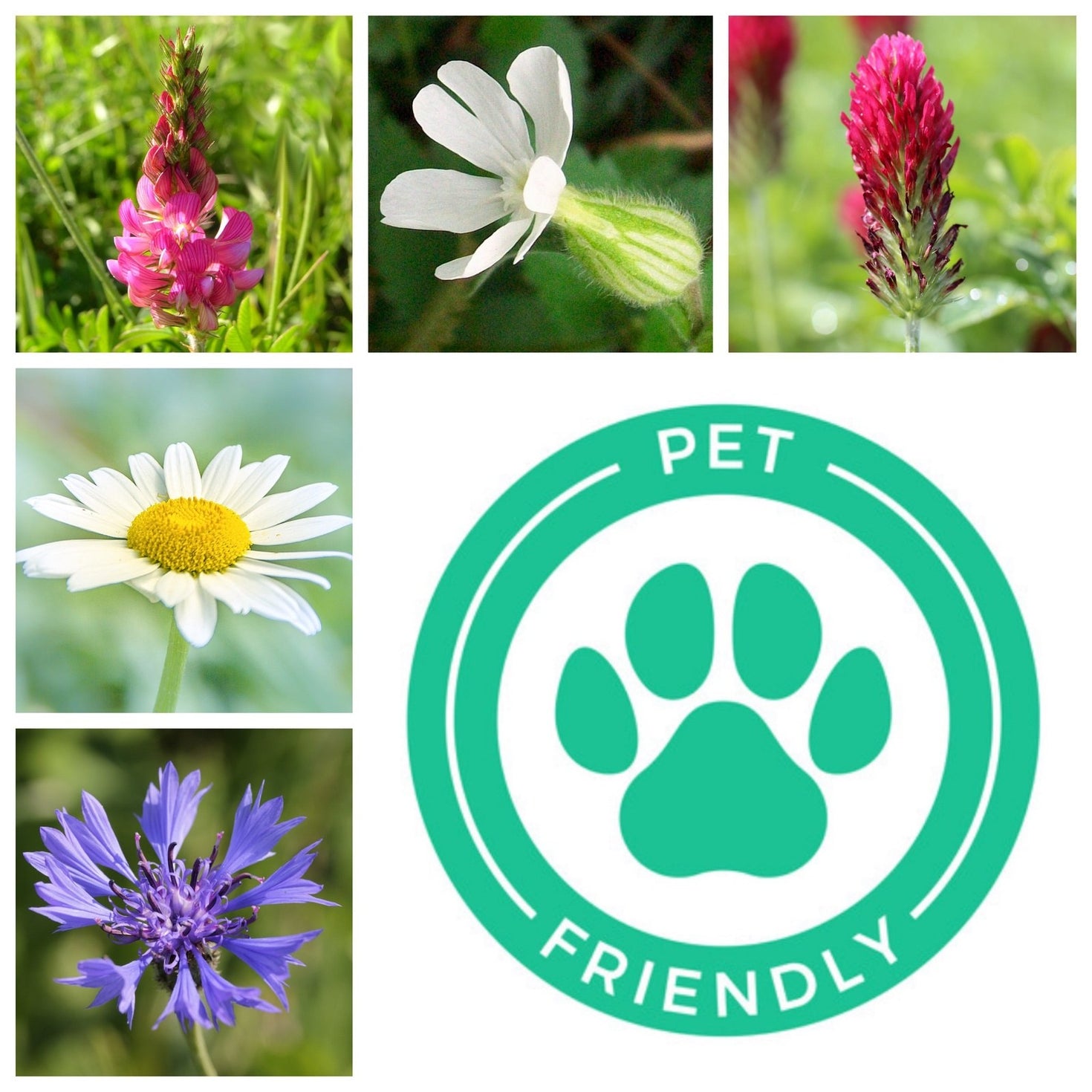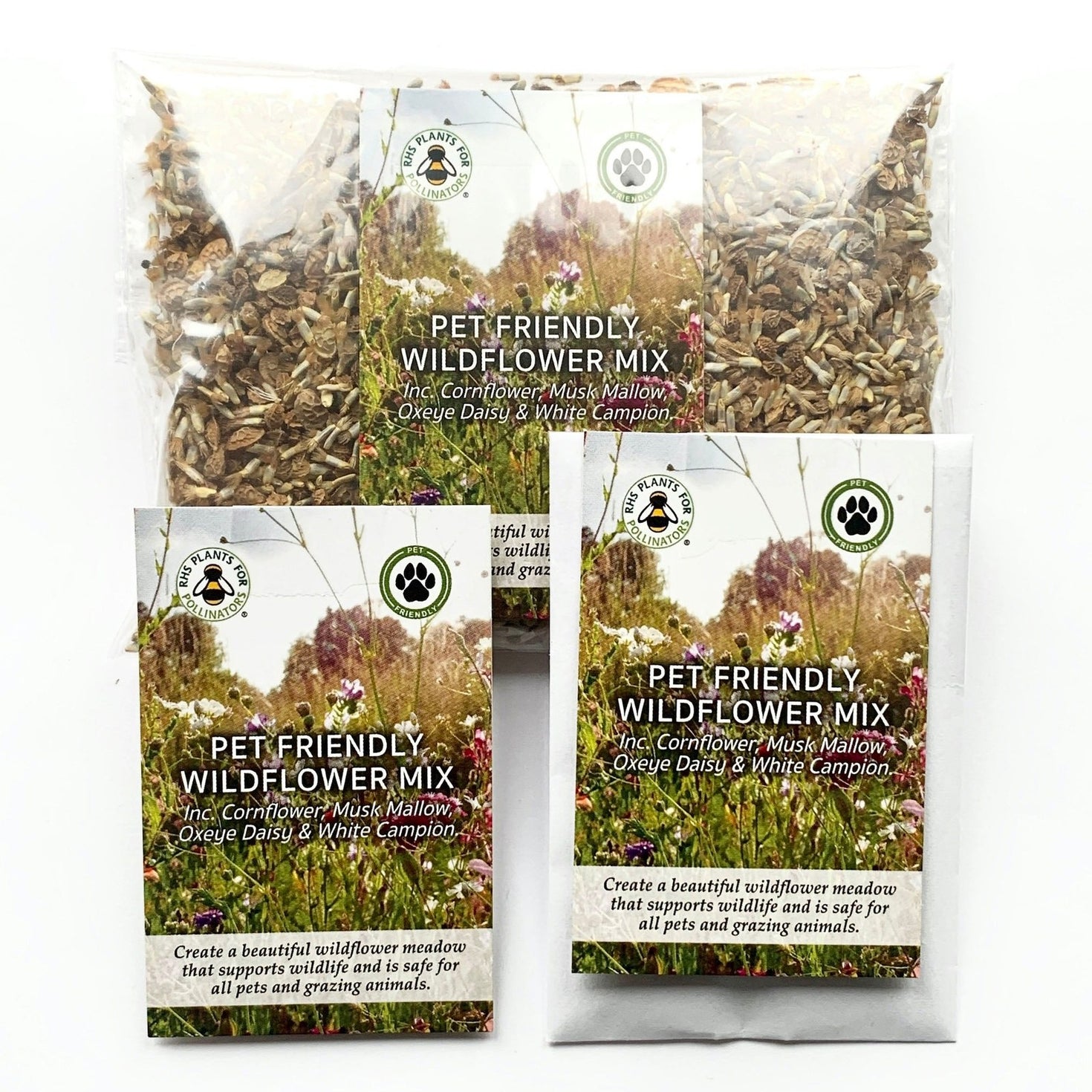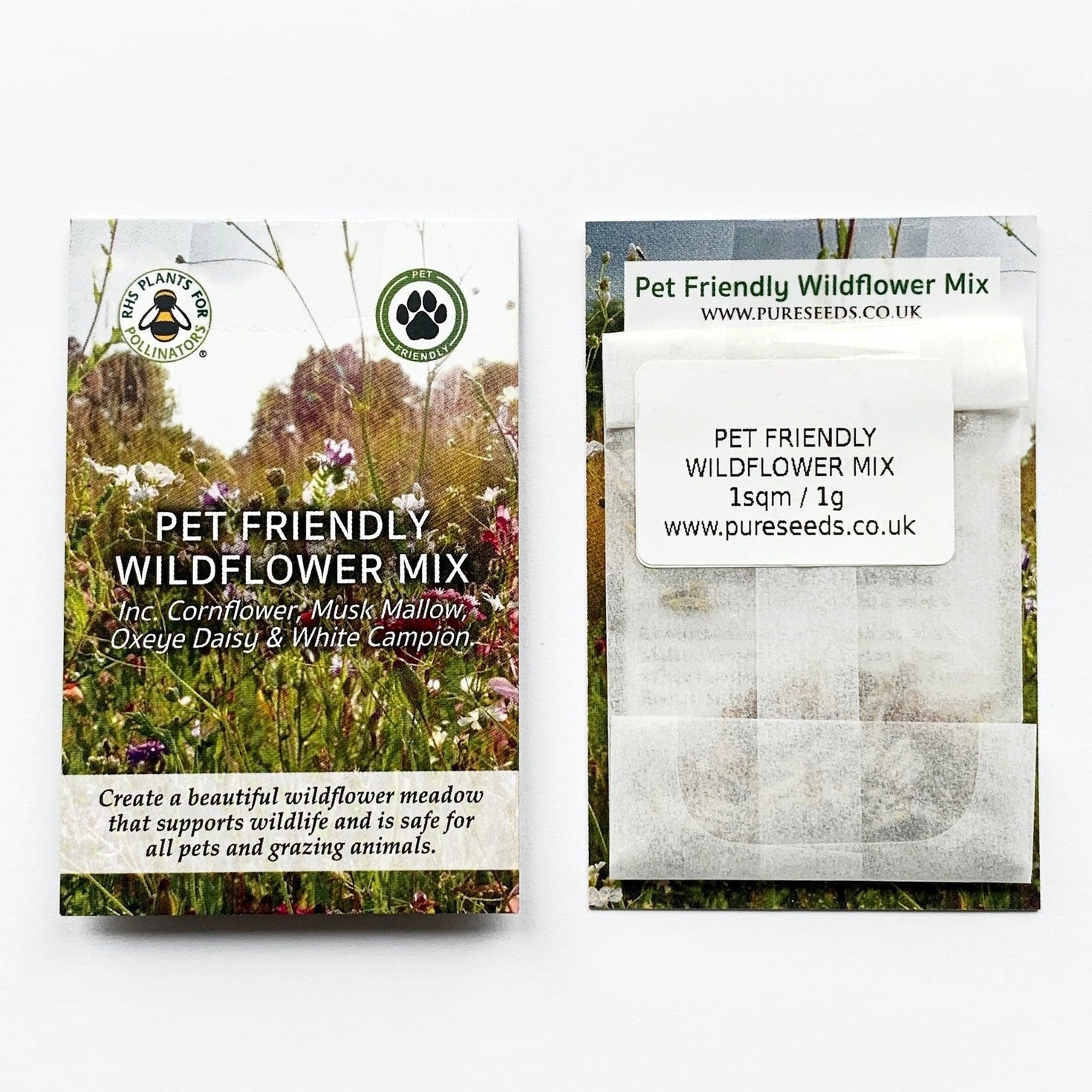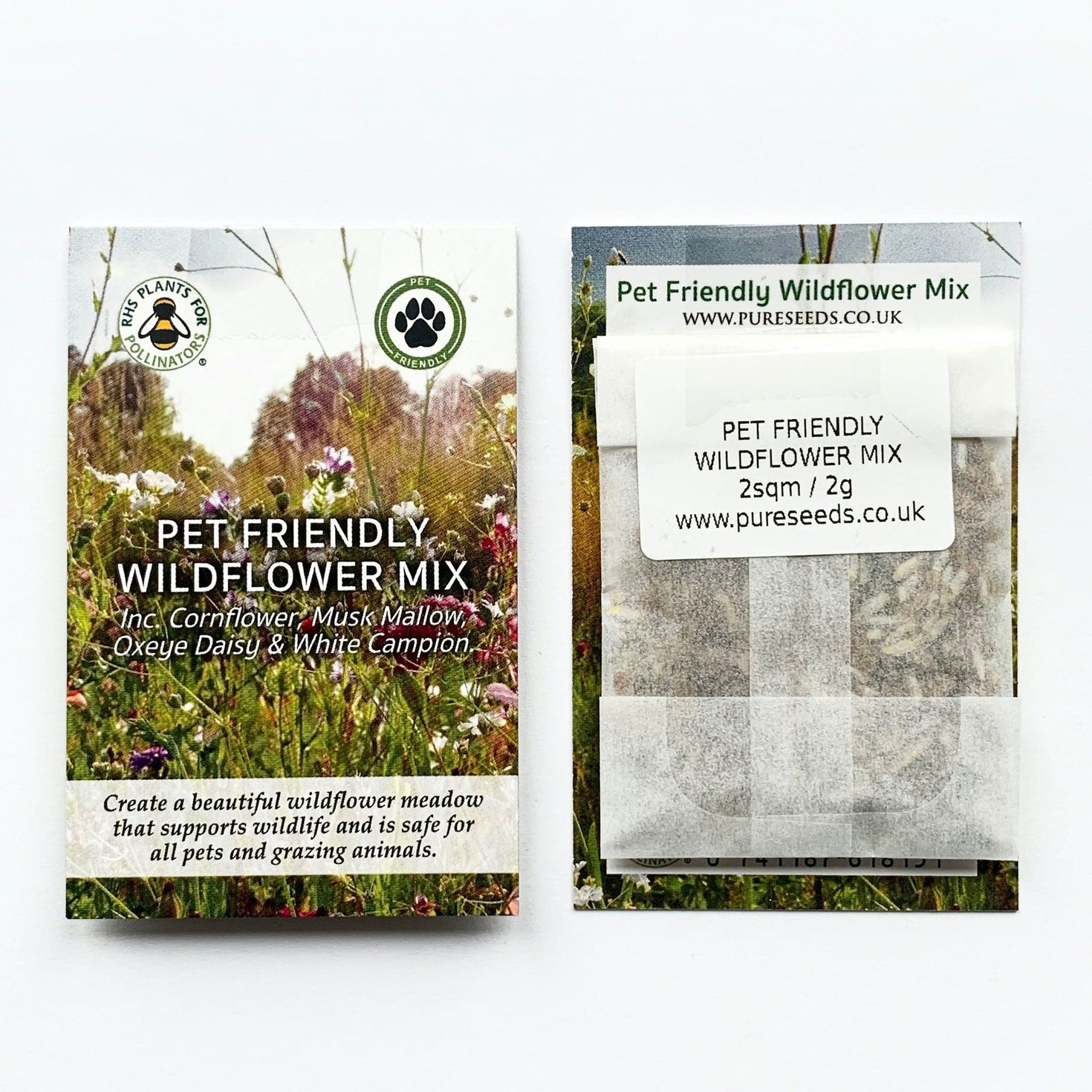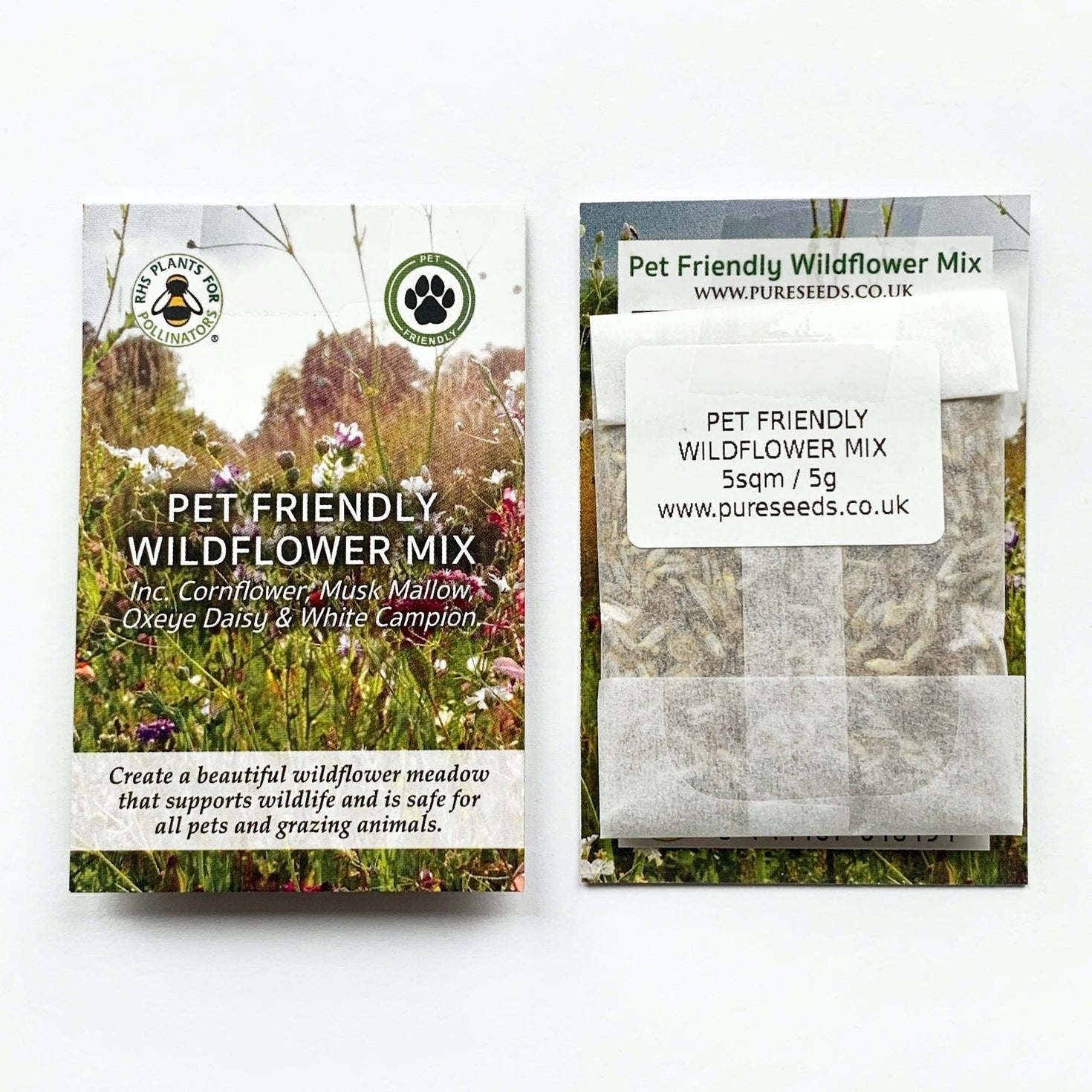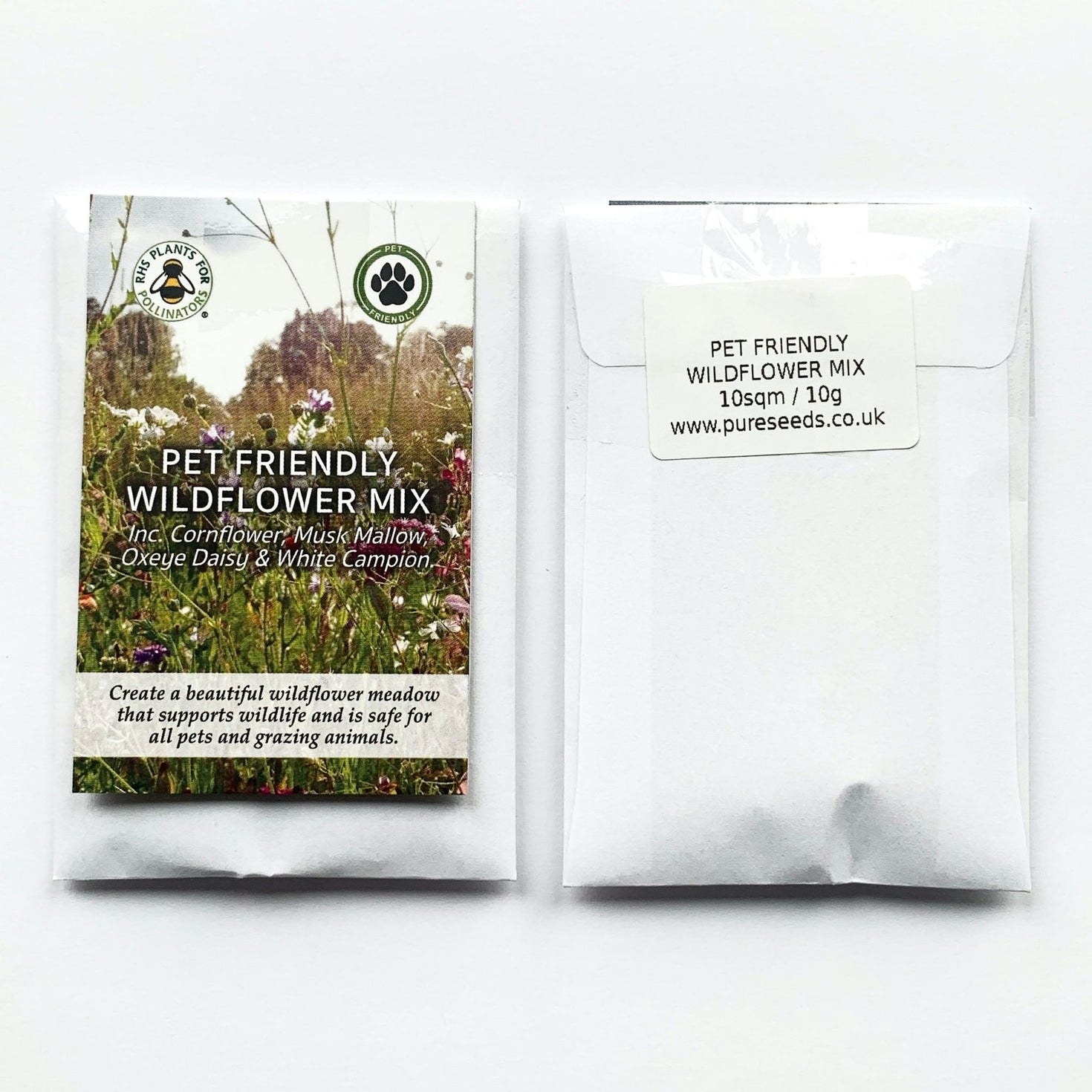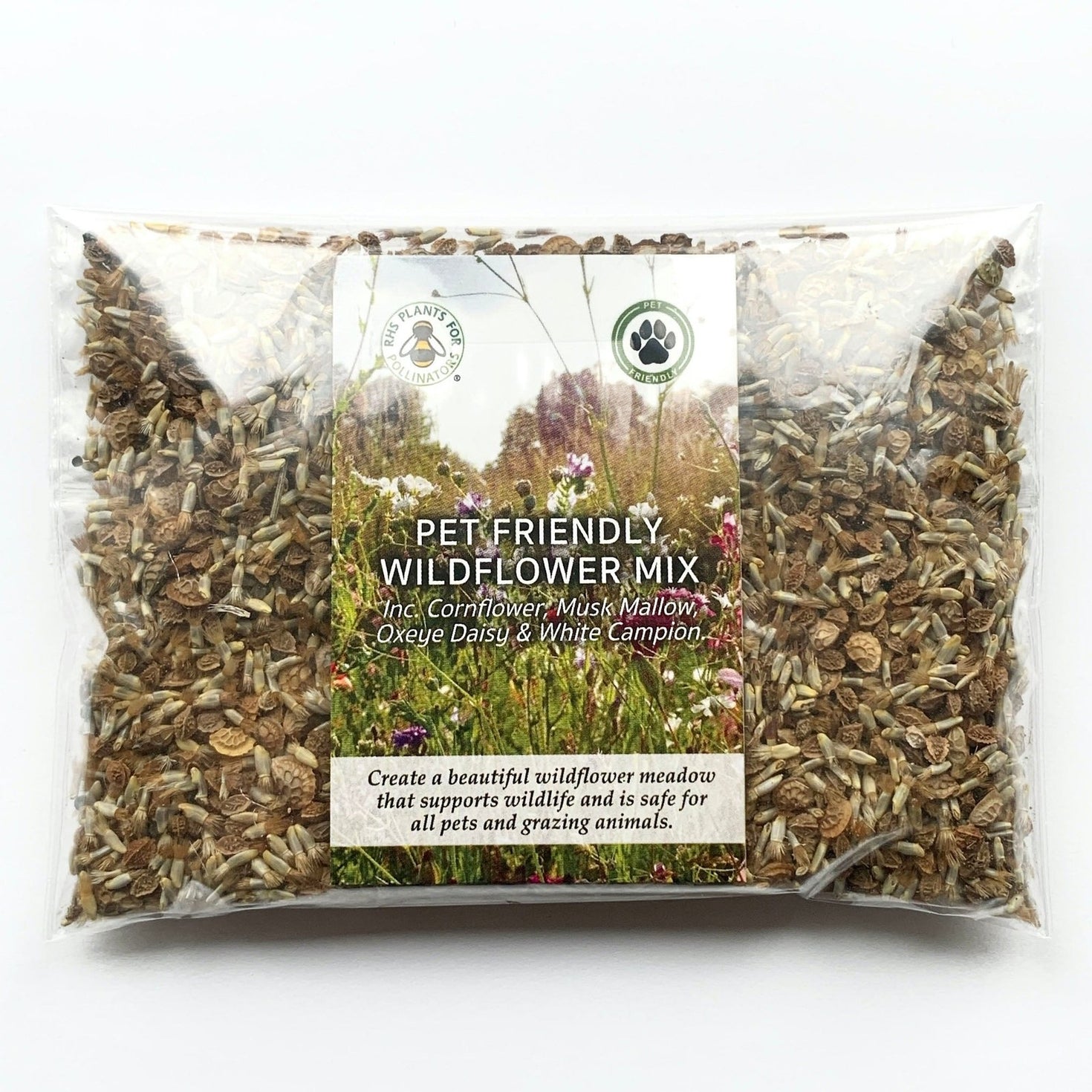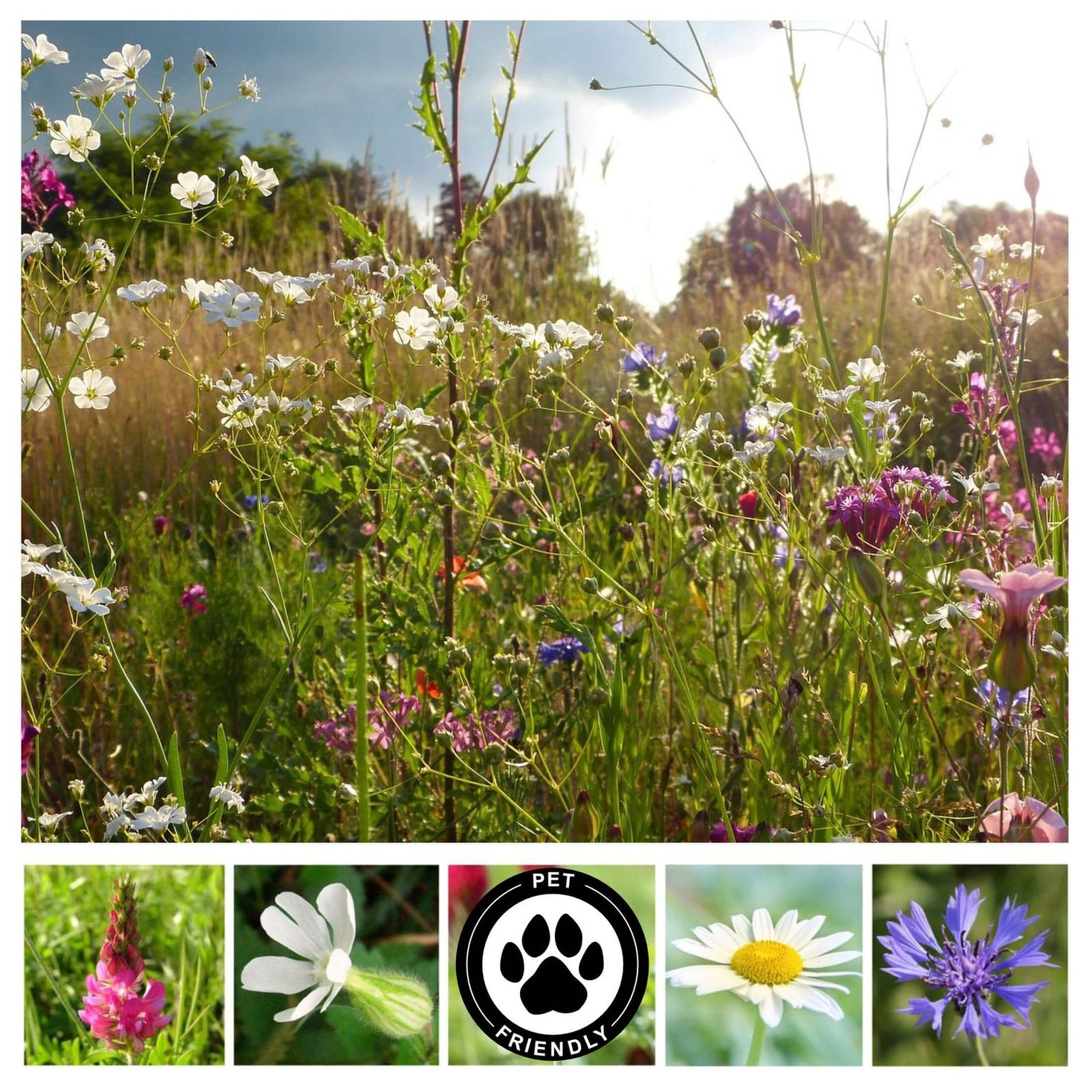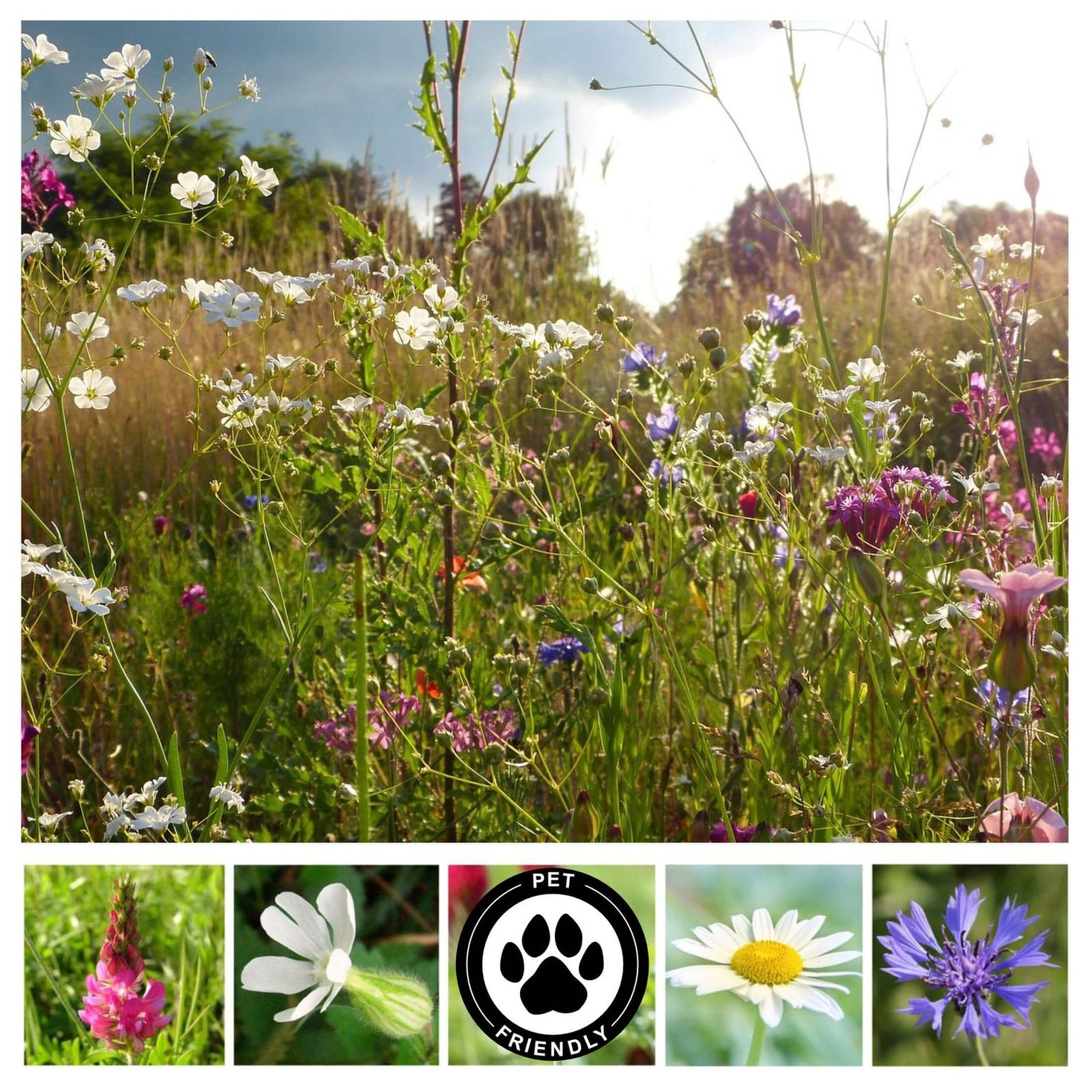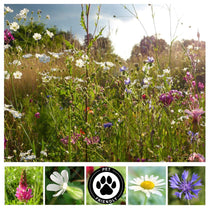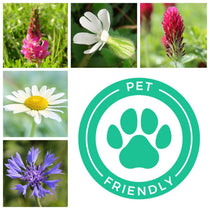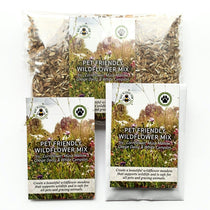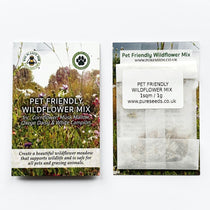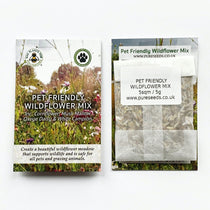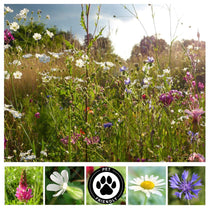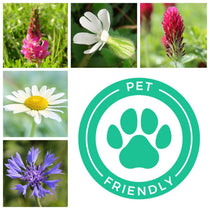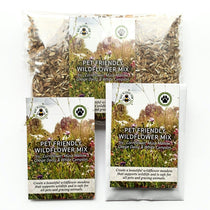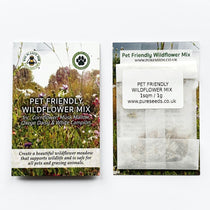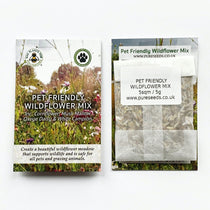 PRODUCT INFORMATION
SHIPPING & RETURNS
CUSTOMER REVIEWS
PRODUCT INFORMATION
Create a vibrant and pet-friendly wildflower meadow in your garden with our specially designed mix!

Attract beautiful bees and butterflies while providing a safe space for your beloved pets, (safe for cats, dogs, horses, rabbits and grazing cattle). Our low-maintenance pet friendly wildflower mix is carefully crafted with a diverse selection of native British species that are fast-growing, attractive, and easy to establish.

Whether you have borders, allotments, or open fields, this versatile mix is perfect for any outdoor space. As this is a pure mix of wildflowers with no grass seed, you will only need 1g of seeds per square meter to ensure a stunning floral display of:

Cornflower
Musk Mallow
Sainfoin
White Campion
Crimson Clover
Sheeps Burnet
Oxeye Daisy
Sweet Rocket.
Growing Instructions:

Get rid of any weeds & water the soil.
Sprinkle seeds evenly over the soil.
Use 1 gram for every 1 square metre.
Some of the seeds are tiny, so take care. You should aim for the seeds to be about 5cm apart (there are 200 seeds for every 1 gram)
Rake the soil & walk over the soil.
Wait for 2 days, then water again. Dont water immediately when the seeds are down, as the smaller seeds can be washed away. Also avoid heavy rain. 
You might also need to protect the seeds from birds. 
Seeds will start to grow in 4 weeks.

Experience the joy of gardening while supporting pollinators and creating a safe haven for your furry friends. Get our pet-friendly wildflower mix today and transform your garden into a haven of natural beauty!
Can be planted between February and October. Wild flowers will grow between 20cm and 70cm. Suitable for use on a wide range of soil types. Suitable for areas in the sun or shade. Safe for all animals. Approxiimately 200 seeds per gram. Mix the seeds before scattering. More detailed planting instructions are available on our blog.
Square Metres (1m²) - Weight of Seeds (grams):
1sqm = 1g = 200 seeds per gram. 
2sqm = 2g
5sqm = 5g
10sqm = 10g
50sqm = 50g
100sqm = 100g
200sqm = 200g = 40000 seeds.

Rest assured, while the visual perception of seeds may sometimes appear fewer than their actual quantity, we guarantee that our seed packets contain the specified amount, and we encourage you to count the seeds yourself for complete reassurance or photograph the seeds and we will count them for you.

All seeds come with a 30 day money back guarantee. 
We hope these flowers bring you joy!
SHIPPING & RETURNS
Spend £6 or more to get FREE standard delivery. Alternatively, it's just £1 for postage.
Express shipping options are available at checkout.
Free returns within 30 days with a money back guarantee.
CUSTOMER REVIEWS