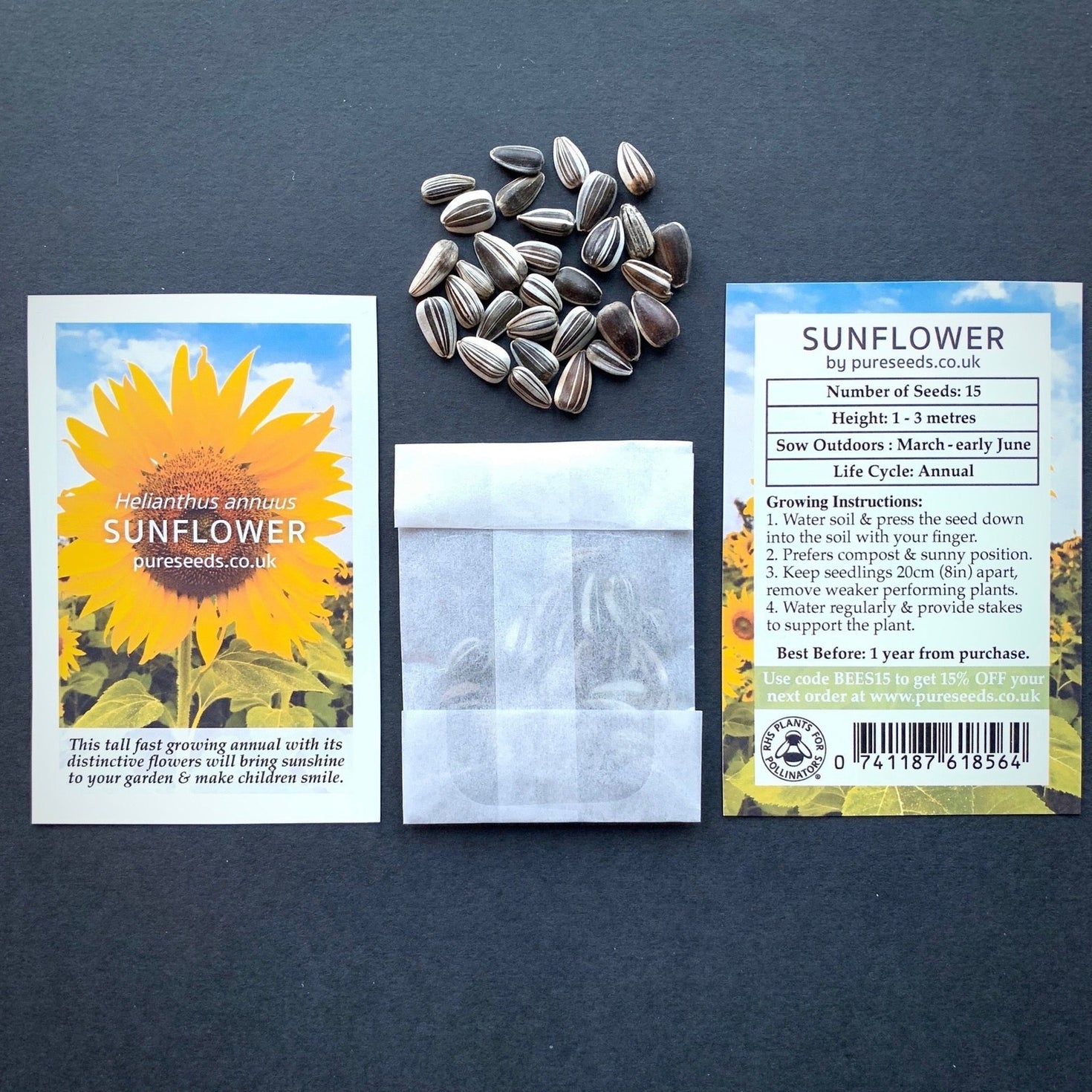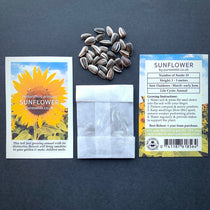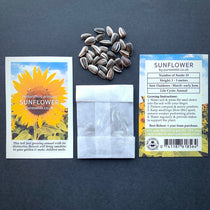 PRODUCT INFORMATION
SHIPPING & RETURNS
CUSTOMER REVIEWS
PRODUCT INFORMATION
Imagine the joy of watching these beautiful and easy-to-grow sunflowers brighten up your garden, attracting birds, bees, and butterflies. With our packet of 30 sunflower seeds, you can enjoy the experience of growing your own sunflowers and share the beauty with others.

Sunflowers are not just a treat for the eyes, but they also bloom for an extended period throughout summer, giving you a long-lasting show of colour. Their large, showy flowers come in various shades of yellow and orange, and their heads can grow up to a foot wide. 
Sunflowers (Variety; common, Helianthus annuus) are low maintenance and easy to care for, this variety does not need pruning and so it makes them an ideal choice for novice gardeners or those with little time to spare.
Planting Instructions:
1. Water soil & press the seed down into the soil with your finger.
2. Prefers compost & sunny position.
3. Seeds take 10-14 days to germinate. 
4. Germination rate is 70% - 80% for sunflower seeds. So plant a few seeds and pick out the strongest to grow on. 
5. Keep seedlings 20cm (8in) apart.
6. Water regularly & provide stakes to support the plant.
7. Sunflowers provide instant feedback on their condition and will droop if they haven't got enough sun and water.
Sunflowers are known to grow tall and can reach heights of 1 to 3 meters, creating a stunning and impressive display in your garden. 
If you're looking to add a splash of color and life to your garden, our packet of 30 sunflower seeds is the perfect option for you. With simple growing instructions printed on each packet, you'll have no trouble getting started, and you'll love watching your sunflowers grow from seedlings to tall, majestic plants. Order now and start your journey to a beautiful and vibrant garden that will bring joy and happiness to everyone who sees it.
---
TIP: If you want to encourage faster germination of your sunflower seeds, try placing them in a plastic bag with a damp tissue and leaving them in a sunny window. This method can create a humid environment around the seeds, stimulating their germination and shortening the time it takes for them to sprout. Just make sure to check on the seeds regularly and ensure they have enough ventilation and moisture to thrive. While this method can potentially reduce the germination time to around 7-10 days, keep in mind that sunflower seeds can take up to 14 days or more to sprout, depending on various factors such as soil temperature and quality. With a little patience and the right conditions, your sunflower seeds will soon grow into beautiful and vibrant plants.
SHIPPING & RETURNS
Spend £6 or more to get FREE standard delivery. Alternatively, it's just £1 for postage.
Express shipping options are available at checkout.
Free returns within 30 days with a money back guarantee.