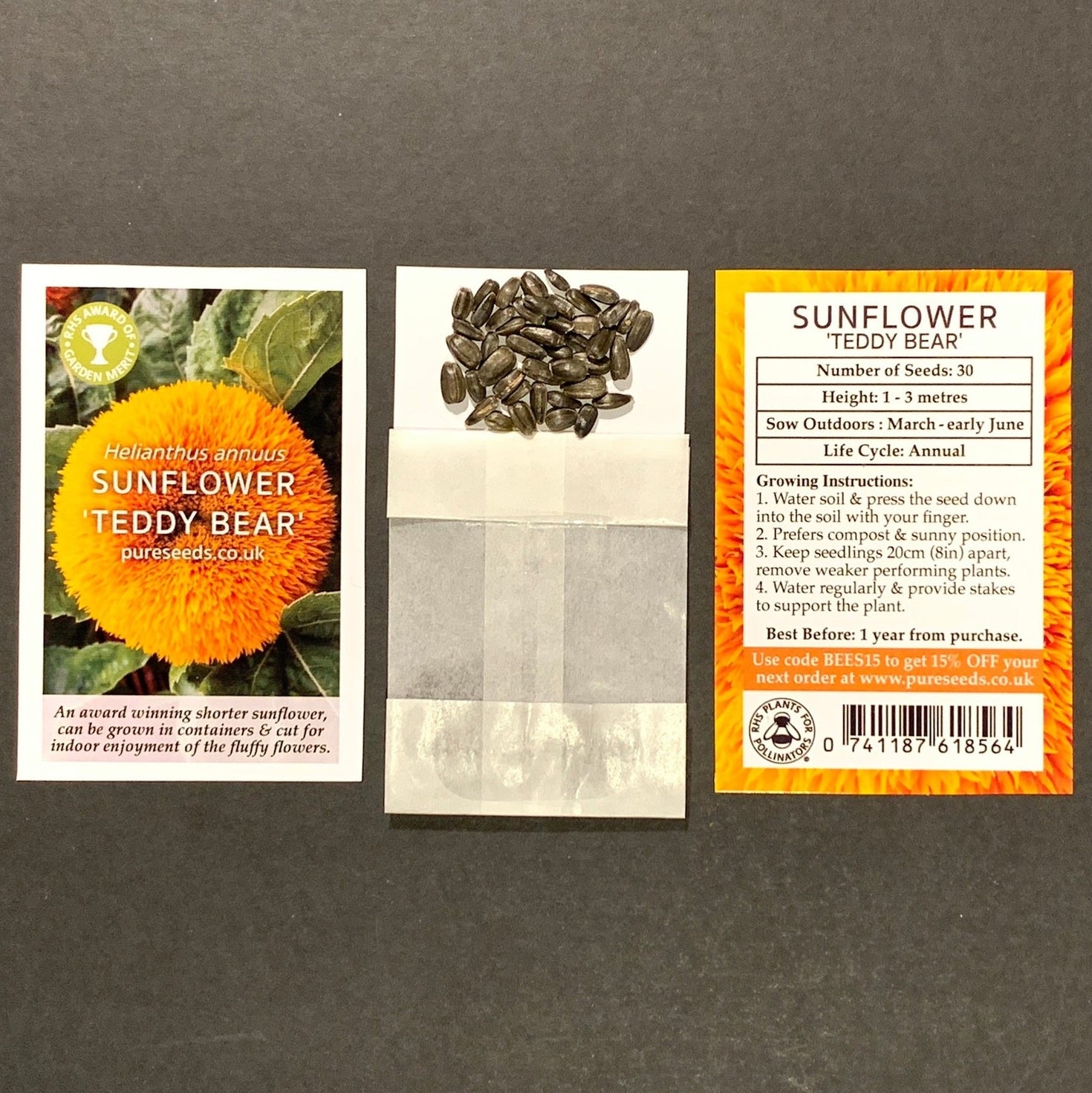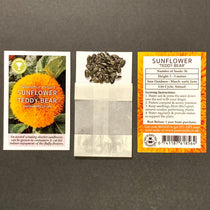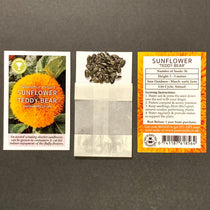 PRODUCT INFORMATION
SHIPPING & RETURNS
CUSTOMER REVIEWS
PRODUCT INFORMATION
Introducing the adorable and unique Sunflower Teddy Bear!
These charming sunflowers have been specially bred to produce blooms that look like fluffy teddy bears. With their cute, rounded faces and furry golden petals, they're sure to put a smile on your face.
Sunflower Teddy Bear (Helianthus annuus) is an award winning low maintenance flower that is easy to care for, making it an ideal choice for novice gardeners or those with little time to spare. Plant it in the ground or in a pot on your patio or balcony, and enjoy the experience of growing your own Sunflower Teddy Bear. Share the beauty with others and make every child smile with our packet of 30 Sunflower Teddy Bear seeds.
Planting Instructions:
1. Water soil & press the seed down into the soil with your finger.
2. Prefers compost & sunny position.
3. Seeds take 10-14 days to germinate. Have patience as these take a while to come out of the soil. 
4. Germination rate is 70% - 80% for sunflower seeds. So plant a few seeds and pick out the strongest to grow on. 
5. Keep seedlings 20cm (8in) apart.
6. Water regularly & provide stakes to support the plant.
7. Sunflowers provide instant feedback on their condition and will droop if they haven't got enough sun and water. 
Don't miss out on the chance to add these delightful and unique Sunflower Teddy Bears to your garden. Buy your seeds today and get ready to fall in love with these charming plants!
---
TIP: If you want to encourage faster germination of your sunflower seeds, try placing them in a plastic bag with a damp tissue and leaving them in a sunny window. This method can create a humid environment around the seeds, stimulating their germination and shortening the time it takes for them to sprout. Just make sure to check on the seeds regularly and ensure they have enough ventilation and moisture to thrive. While this method can potentially reduce the germination time to around 7-10 days, keep in mind that sunflower seeds can take up to 14 days or more to sprout, depending on various factors such as soil temperature and quality. With a little patience and the right conditions, your sunflower seeds will soon grow into beautiful and vibrant plants.
SHIPPING & RETURNS
Spend £6 or more to get FREE standard delivery. Alternatively, it's just £1 for postage.
Express shipping options are available at checkout.
Free returns within 30 days with a money back guarantee.